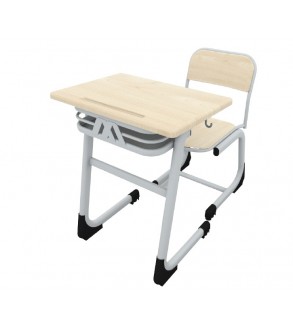 Single classic werzalit school desk
Table: Werzalit
Desk Pipe Thickness: 25-32x50x1,5 mm.
Chair Pipe Thickness: 16x40x1,5 mm.
Seat backs: werzalite
Paint: Electrostatic Polyester
Paint Thickness: 80 micron
Lugs: adjustable floor
[img-43-left-home_default] row of the student's school bag eye height
It is designed to allow the knee to prevent knocking. [img-44-left-home_default] Students at the school are designed for a more comfortable fit. Profile thickness does not cause any deformation is 1.5 mm
[img-45-left-home_default]
In front of the table as an option
Pitch 1.5 mm wall thickness can be added. Custom logo can be placed.
 [img-46-left-home_default]
On uneven ground
Adjustable shoes
balance can be achieved easily.
 double school desk dimensions
 
During school "Classic Table"
When making school desks, Foot in 32x50x1,5 mm arakayıt in 20x40x1,2 mm trays and bags under the eyes
15x30x1,2 mm. oval profile is used. The table Classic table werzalite, eye bags
sheet metal or wire basket can be. In addition, according to the front desk to request your own logo
curtain or sheet can even add.
During school "Classical Seat"
When making school desks, Foot in 32x50x1,5mm, 20x40x1,2mm arakayıt in the seat, the backrest portion
The profile Q21x1,5mm pipe is used. Seat and backrest of the classic seat
werzalite, it may counter or plastic. The seat can be added to the bottom of the wire basket.
 
SINGLE ROW
DESCRIPTION 1 PRIMARY 2 PRIMARY HIGH SCHOOL 
 TABLE SIZE          45x63 cm. 45x63 cm. 45x63 cm.
Table height          65 cm.         70 cm.       75 cm.
Seat height            35 cm.         40 cm.      45 cm.
BOX SIZE         60x110x75   60x110x80   60x110x85
WEIGHT          42 KG / 2 x 42 KG / 2 x 42 KG / 2 PIECES
 
 WHAT IS WERZALİT?
Werzalite, turned into fine shavings of flaked wood glue and chemicals
with stirring, by shaping under high pressure and temperature, the decor paper
coating the surface of the products is accomplished by.
Werzalit products, such as particleboard, known as artificial wood planks between people
if not produced. Fully finished material is removed from the press. However, other chip
coating process is also carried out in the plate. For some chemicals mixed into the chip during manufacture decay, insects and mold and unaffected by moisture and climatic conditions in the önlenmiştir.b properties are separated by results from other particle boards as a material quality.
Werzalite late grip and temperatures between -78 C to +92 C. slow yanar.
resistant. Also for short periods to 180 C the filament is not affected by the fire.
Werzalit cola drinks, fruit juices, tea, milk, and acetic acid (some strong acids
excluded) affected by the chemicals. Easy to clean.
visibility
View