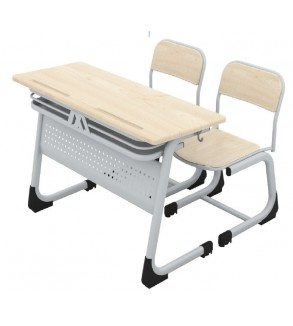 Double classic werzalit desk set
( separated sitting)
Table: Werzalit (45x110 cm.)
Table Pipe Thickness: 25-32x50x1, 5 mm.
Chair Pipe Thickness: 16x40x1, 5 mm.
Seat backs: PPC
Paint: Electrostatic polyester
Paint Thickness: 80 micron
Shoe: adjustable according to the floor
[img-43-left-home_default]

Bag shelf height designed that avoid hit student kness.

[img-44-left-home_default] 

The desk designed to a better fit for student. Profile thickness is 1.5 mm, does not cause any deformation.

[img-45-left-home_default]

In front of the tables optionally
1.5 mm thick front cover can be added. Custom logo usage is possible.




 

 [img-46-left-home_default]
 

The foot lugs
height can be adjusted at uneven ground.

 
Classic Table
At the feet, 32x50x1, 5 mm, at interconnection 20x40x1, 2 mm, at under table
surface and bag shelf 15x30x1, 2 mm. oval profile is used. Classic table surface is
werzalite, bag shelf is sheet metal or wire basket. Front of the table can be usage
custom logo or knees cover.
Classic Chair
At the feet, 32x50x1, 5mm, at interconnection 20x40x1, 2mm, at seat
and backrest is Q21x1, 5mm tube and pipe used. Classic seat and the seat
backrest can be werzalite, plywood or plastic. Under seat wire basket can
be add.
SINGLE DESK
 
DESCRIPTION
ELEMENTARY 1
SECONDARY
HIGH SCHOOL
TABLE SURFACE SIZE
45x63 cm.
45x63 cm.
45x63 cm.
TABLE HEIGHT
65 cm.
70 cm.
75 cm.
SITTING HEIGHT
35 cm.
40 cm.
45 cm.
BOX SIZE
60x110x75
60x110x80
60x110x85
WEIGHT
42 KG / 2 QUANTATY
42 KG / 2 QUANTATY
42 KG / 2 QUANTATY
 
DOUBLE DESK
 
DESCRIPTION
ELEMENTARY 1
SECONDARY
HIGH SCHOOL
TABLE SURFACE SIZE
45x110 cm.
45x110 cm.
45x110 cm.
TABLE HEIGHT
65 cm.
70 cm.
75 cm.
SITTING HEIGHT
35 cm.
40 cm.
45 cm.
BOX SIZE
60x110x75
60x110x80
60x110x85
WEIGHT
33 KG / 1 QUANTATY
33 KG / 1 QUANTATY
33 KG / 1 QUANTATY
visibility
View